Yellow Rose, The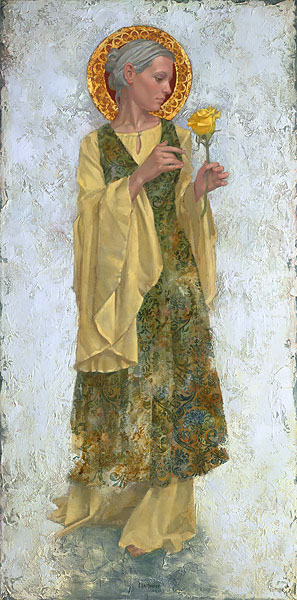 Yellow Rose, The
$ 495.00
Add To Cart
"The Yellow Rose" by James Christensen
Signed Limited Edition Giclee on Canvas, Unframed
Image Size: 12 X 24 in.
Edition Size: 250
The Yellow Rose (Masterwork)
Only 1 Left!
$ 895.00
Add To Cart
"The Yellow Rose" by James Christensen
Signed Limited Masterwork Edition Canvas, Unframed
Image Size Approx.: 20 X 40 in.
Edition Size: 50
"When I painted 'The Yellow Rose' I had just come back from a trip to Italy. Everywhere we went there seemed to be another centuries-old building adorned with yet another breath-taking fresco. There was such a lost and found quality to discovering these works. Most carried a religious theme, but there was also a sense of high romance in them as well. That is what I tried to capture here," says Christensen.
"The woman has a halo, but I'm not quite sure that I meant her to be a saint. She definitely is instilled with divine grace, however. The yellow rose is symbolic of light and warmth, as opposed to a red rose which is more often associated with love and lovers. I also focused on taking a much more painterly approach to this piece. I wanted it to have the built-up and layered textures like those frescos I had seen in Italy. An astute observer will notice that this is the same model that I used for 'The Beggar Princess and the Magic Rose,' but that painting was actually inspired by this one."
---