College of Magical Knowledge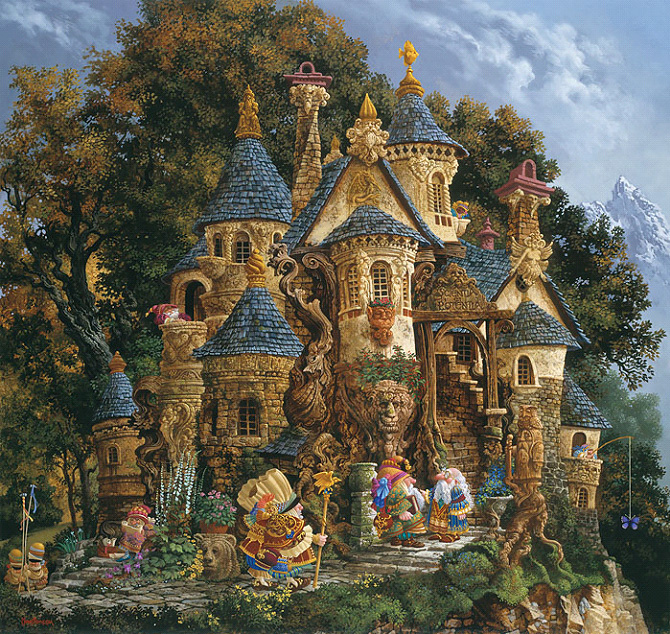 College of Magical Knowledge
$ Call
"College of Magical Knowledge" by James Christensen
Signed Limited Edition Giclee on Canvas, Unframed
Image Size: 34 X 32 in.
Edition Size: 35
College of Magical Knowledge (Time Limited)
$ Call
Add To Cart
Signed Limited Edition Giclee on Canvas, Unframed
Image Size: 22 X 24 in.
Edition Size: Edition Will be Set by the Number of Orders Taken by September 30th, 2011
Either Edition is offered in a gallery wrap for an additional $30
Credendo Vides: By Believing, One Sees
For only a short window of time, one of James Christensen's most beloved paintings is available as a Giclée Canvas Anniversary Edition! You'll have to place your order quickly because enrollment in "The College of Magical Knowledge" ends September 30, 2011.
"The College of Magical Knowledge" is the most recognized and adored setting in Christensen's "land a little left of reality" and was featured in his best-selling book The Voyage of the Basset. "The inscription over the entrance reads Scientia est Potentia," relates Christensen, "so the institution was founded on the principle that 'Knowledge is Power' But it is vital to realize that here, at this place, the traditional human paths to knowledge, to become political beings or financiers, are incomplete. Science itself only offers us one way of looking at our problems. One needs to add the suspension of disbelief in order to gain access to the magic found in life. You don't learn ordinary things here."
"'The College of Magical Knowledge' is just the opposite of the kind of institution where the Fellowes wear black and are very serious. It is a place where the professors wear as many colors as possible, plus two! I'd guess that nearly every character I've painted went to school here. Certainly a few haven't, but you can see here Bird Hunters, the Fishwalker, a butterfly fisherman and the Pear Balancer. For as stately as the building may appear, the College is far bigger on the inside than out. The Fellowes have an incredible library of stuff at which we can only guess. But two of the most prized possessions are the 'Book of Answers' and the 'Book of Questions.' I've heard that most find learning how to ask the right questions will get them farther than simply having all the answers, which isn't necessarily the path many institutions take."
"The College of Magical Knowledge" will only be offered as a personal commission through September 30, 2011. It comes in two different sizes. First, a magnificent MasterWork™ canvas at 34" w x 32" h. This MasterWork Edition will not exceed 35 pieces regardless of the number of orders received. The regular Fine Art Canvas at 22"w x 24"h will have an edition size set by the number of orders we receive by the September 30 deadline.
For the first time, you will have the option of ordering your Greenwich Workshop Fine Art Canvas Edition (either size) in a gallery-wrap format, which makes it suitable for display without the need for additional framing! There is an additional charge of $30 for this service.
---