Three Wise Men in a Boat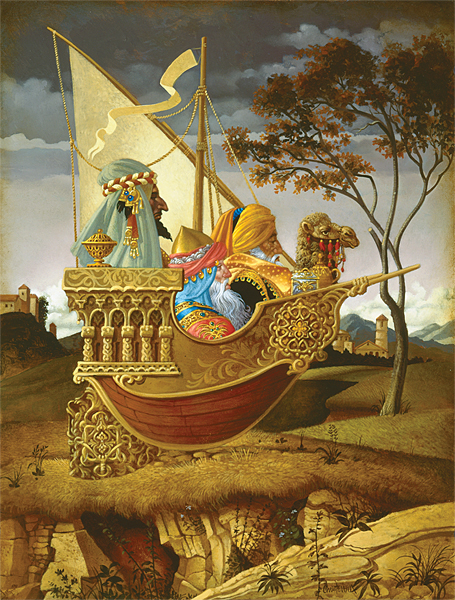 $ Call

"Three Wise Men in a Boat" by James Christensen
Signed Limited Edition Giclee on Canvas, Unframed
Image Size: 12 X 16 in.
Edition Size: 250
"These three are obviously on an important mission," says James Christensen, "dressed in their finest clothes and all very serious, even the camel. We're not sure who they are but they each appear to be carrying a special gift."
Their magical golden boat, complete with Moorish-inspired stone arches and a filigreed rudder, sports a "lateen" sail common around the Mediterranean Sea and other Mideast coastal waters. Is this ship floating or has it run aground? Perhaps they are near Bethlehem . . . but it looks a lot like northern Europe. Then again, this journey in a spectacular vessel of imprecise ancestry across a Flemish landscape might just be a jewel of a metaphor for life itself.
"These three wise men are taking a shortcut," says the artist with a twinkle in his eye. "There's only one camel on deck. The other two are below because they get seasick."
This holiday-inspired image from the professor of the imagination, James C. Christensen, is a treasure for your home year round.
---