One Light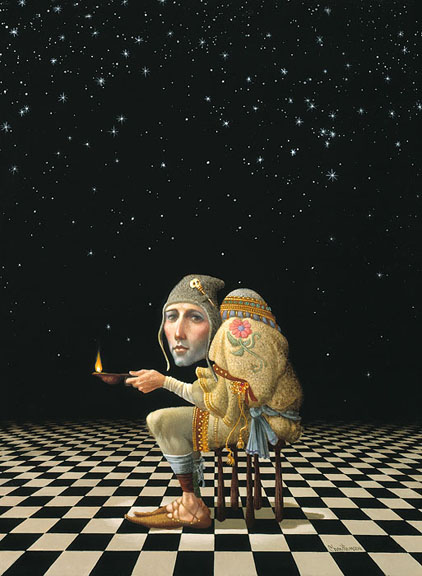 $ Call

"One Light" by James Christensen
Signed Limited Anniversary Edition Giclee on Canvas, Unframed
Image Size: 11 X 15 in.
Edition Size: 250
Let your own light shine," explains James Christensen, "because together, we will light up the world. Even this guy, with his hump and imperfections, he isn't afraid to let his light shine. Sometimes it seems my quietest paintings say the most important things. This is one of them and I like it quite a lot, in fact, I've never sold it.
"This is a study of balances and opposites, light against dark; life against death. The checkerboard has always been a symbol for the playing field of life, and in this case, I have it fading into infinity rather than ending in a sharp line at the horizon. The hunchback, our everyman, shows signs of vulnerability. The flower of life is embroidered on his sleeve, but the skull, a memento moiré, is in his cap. One thing is for sure, he will only have a limited time as a player in this game. Yet, even this frail mortality will not prevent him from letting his light shine. And he sits in a sky full of stars, which might be others like just like him, holding up their lights in the dark. We're candles in the darkness for each other, so it's important to let your light shine, no matter how small it is.
Gallery Wrap Available for an additional $30.
---