Two Sisters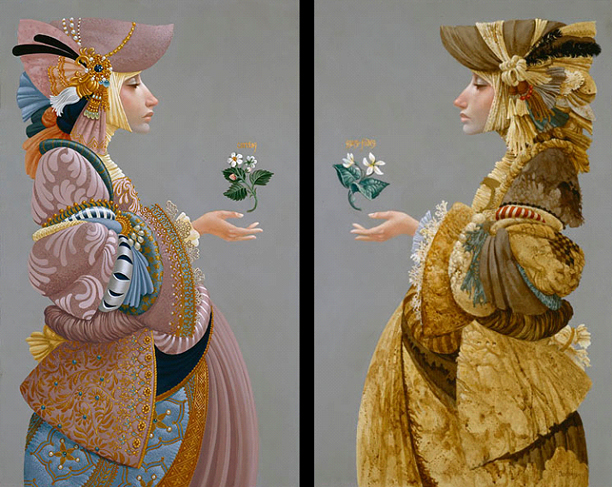 $ Call

"Two Sisters" by James Christensen
Set of Two Signed Limited Anniversary Edition Giclee on Canvas, Unframed
Image Size: 14 X 23 in. each
Edition Size: 200
"Homer tells us that 'winged words' are successful communications," begins James Christensen, "and that words without wings are not as well understood and do not have the power to touch or move a listener. Two Sisters was created as part of a show I put together, "Winged Words," which was based on this idea of communication and on our attitudes towards each other.
"It began on a trip to Italy. I was intrigued by the Fra Angelico frescoes painted in the monks' cells in the Church of San Marco in Florence. Many of the paintings had words of scripture, written in Latin, issuing from the mouths of the characters. I became fascinated with the idea, so much so that it became the theme for an entire show."
"The first idea that came to me for the diptych "Two Sisters" was somewhat cliché: the poor woman is virtuous and the rich woman, elitist; one good, one bad. But, then I thought about the inherent worth of all people, the wealthy as well as the poor. Both have gifts to offer to the world, each giving according to their ability. This is symbolized by the flowers and Latin words hovering above the outstretched hands.
"The ornately adorned woman balances a strawberry plant which symbolizes the good works of a righteous person. Notice that the fruit itself is not quite ripe as her gifts to the world have not yet been fully realized. The Latin reads 'Caritas:' the rich sister can offer charity. The more meekly attired sister holds a little white violet, a symbol of humility. The Latin above reads 'Spes – Fides:' faith and hope."
Rich in symbolism, these two paintings make a warm and wise statement: regardless of our specific circumstances, we all have a worthy contribution to make to our world!
---