Man Taking a Leek on a Tiled Wall for a Walk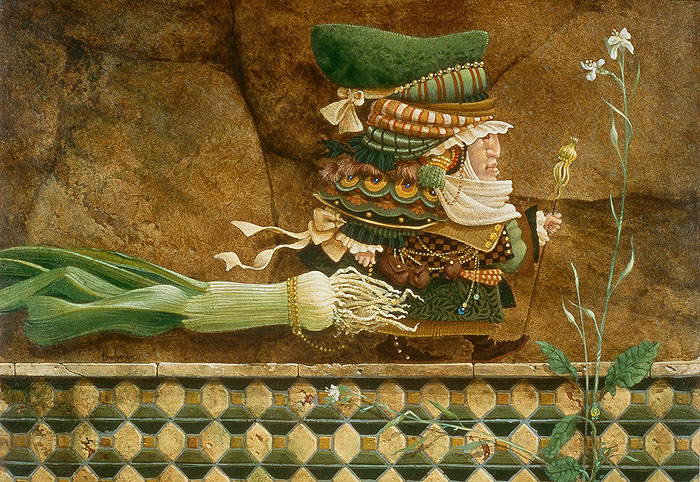 $ Call

"Man Taking a Leek on a Tiled Wall for a Walk" by James Christensen
Signed Limited Edition Smallworks Giclee on Canvas, Unframed
Image Size: 13 X 9 in.
Edition Size: 450
There are times I paint a painting for no reason other than the delight of a silly or absurd word. Sometimes, it works in reverse. While we were living in Madrid, I began working on an image of a man taking his pet shallot for a walk. When we returned to the States, I asked Carole if she would buy a shallot so I could finish the painting.
"Can't you use a green onion?" she asked.
"No," I said, "that's a silly pet. Nobody would have a green onion for a pet."
Carole looked for weeks. I think she even had regiments of her friends scouring surrounding counties for shallots. There were no shallots anywhere in Utah. I think they even checked parts of Nevada.
Finally one day, Carole came home triumphant and excited. "I've found what you wanted," she said and handed me a paper sack from the new grocery store.
It was just a bunch of leeks.
"No, that is not right," I said, returning the sack. "These are leeks, not shallots."
Carole looked me square in the eye, handed the leeks back and said, "James, finish the painting."
So, that's how Man Taking a Leek on a Tiled Wall for a Walk. The play on words came after the fact.
So, yes, the image is great fun. The question is where would you hang it? In the kitchen? The bathroom? The man-cave? Really, it goes anywhere a little laughter is in order. Each canvas comes with the title silk-screened on a brass name plate to be sure that the title of this gem is part of the presentation. If you can't decide whether you want to hang yours in the kitchen and the loo, let us recommend one for each.
---