Holy Grail Travels to Britain, The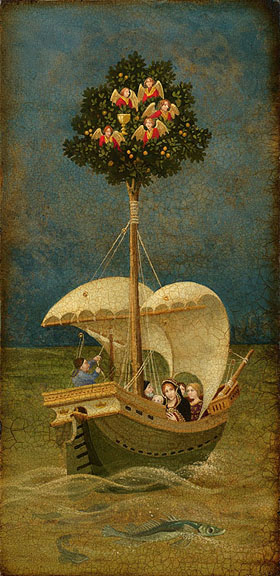 $ Call

"The Holy Grail Travels to Britain" by James Christensen
Signed Limited Edition Giclee on Canvas, Unframed
Image Size: 9 X 18 in.
Framed Size: 12.5 X 21.25
Edition Size: 150
The legend of the Holy Grail is one of the most enduring stories in literature and art. The Grail is said to be the cup that was used at the Last Supper and then, at the Crucifixion, it is said to have received blood flowing from Christ's side. It was later brought to Britain by Joseph of Arimathea, where it lay hidden for centuries.
Alternatively, some believe the Holy Grail is the vessel of the sang real or blood royal, a bloodline flowing down through the centuries originating with a Jesus who survived the cross to father children with Mary Magdalene.
Christensenís The Holy Grail Travels to Britain employs some visual sleight-of-hand. In this Fine Art Edition, the Arthurian chalice in the tree is not the Grail referred to in the title, but rather the Grail is the boatís passengers. In one version of the Grail story, Joseph of Arimathea, one of Jesusí uncles, traveled to Britain with three Marys, and the true Grail, the bloodline of Jesus and Mary Magdalene.
---