Fantasies of the Sea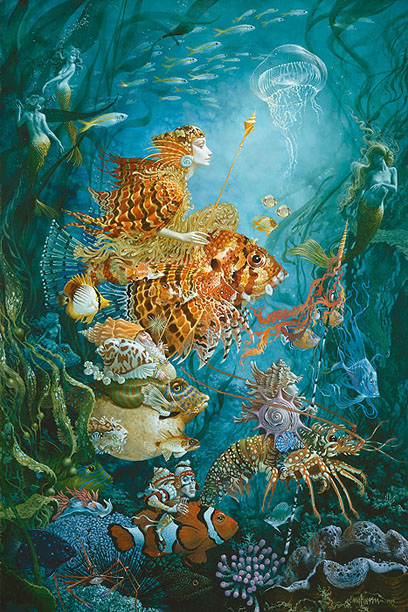 Fantasies of the Sea
$ Call
"Fantasies of the Sea" by James Christensen
Signed Limited Edition Giclee on Canvas, Unframed
Image Size: 19 X 29 in.
Edition Size: 100
Fantasies of the Sea (Large)
$ Call
Add To Cart
Signed Limited Edition Giclee on Canvas, Unframed
Image Size: 24 X 36 in.
Edition Size: 75
One part oxygen, two parts hydrogen, and three parts magic. The anatomically correct fish, lobsters and jellyfish make this portrait of a regal queen of the water world and her entourage seem… well… possible! She is adorned with elegant ornaments of the sea and fittingly, rides a lion-fish, a fierce defender of this marine jungle. Below her rides the court exchequer. Mounted on a puffer fish, he wears the smug expression of high authority, despite the fact that some sand dollars have slipped from his belt and stream behind him. A hunchbacked court jester astride a clownfish gives us a knowing look. The procession is led by a well-armored knight bravely carrying his spiny-conch shield and riding his "steed"—a spiny lobster—ready to do battle with any adversary.
---